– Let's Face Reality now!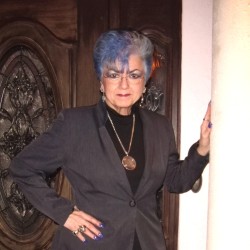 I have been an advocate, teacher and guest lecturer on the topic of "S&M and the Law" since 1987. Because of my extensive, first hand experience in the 1980s through the present time, I have felt responsible to share my knowledge to help people in preventing all sorts of problems in their lives which can be avoided. I have lectured and presented at universities, conventions, clubs and for groups and provided private tutoring for professionals, individuals and couples who have taken an interest in learning about how our society, law enforcement and the judicial system deal with the professional dommes, practitioners and other folks involved on some level in the BDSM lifestyle. With 36 years experience I have much to offer in the education and enlightenment of this topic. Read here:
MY RUDE AWAKENING
What else I have learned is the resistance and avoidance I have observed and been subjected to by the very same people who need the education the most. This reality has been discouraging and interesting to me at the same time. It is difficult to get my head around the blatant fact, most people prefer to ignore the risks and possible devastations their ignorance or naivety could cause.
However, in spite of the resistance I've encountered and challenged, I still remain motivated and eager to try to warn and inform the individuals I feel need my support the most. This topic is not exclusive to people connected or involved to the BDSM lifestyle. It branches out into all aspects of the mainstream. The boundaries, laws and customs of our social order are intertwined and reflective with all individuals at some points. My topic could easily have a replacement title or the subtitle of: Mainstream Ignorance VS. the Law.
LACK OF AWARENESS CAN CAUSE – FINANCIAL HARDSHIPS, EMOTIONAL DEVASTATION, PROSECUTION, DIVORCE, EVEN JAIL TIME!!!
Over the last 25 years, I have recognized major problems in the subculture. One of the problems that exists in the BDSM community are the super egos, the alter egos which have infiltrated or have manifested within the community with self-serving and disrespectful attitudes/motives or dangerous objectives and others who use the BDSM scene as a smoke screen to hide their mental disorders, and abusive behavior/tactics such as sexual sadists, and bullies and abusers who pose as Dominants, Tops, Masters and Pro Domme Mistresses.
I'm not going to address that sensitive tentacle of the problem here today. I'm addressing the problem of other alter egos, those individuals who feel they are at the top of the game, know more than everyone else in the community, and therefore do what "they" think is okay in spite of the risks, dangers and other problems it could cause them, their loved ones and people connected to their lives. These are the folks who would rather attend a titillating workshop on "waxing" or an edge-play workshop about "needle-play" instead of attending an educational seminar in the next classroom on S&M and the Law.
It's a shame and pitiful that that many people don't have enough intelligence and common sense to realize when it's mandatory to learn and take heed of the basic facts, rules and legalities, before they play with fire – before they risk jeopardizing their reputation, safety, security, job or business, relationships, or marriages, family and ultimately could cost them their freedom.
In my seminars at largely attended yearly conventions, I have a scene-friendly attorney accompany me to answer legal questions. In presentations I have provided, I concentrate on the importance of abiding by the laws and practicing BDSM safely, sanely, consensually and legally, which not surprisingly, most people are poorly misinformed.
At universities in Human Sexuality, Psychology and Sociology the focus is on human behavior, human sexual behavior, dominant and submissive relationships, the professional scene, fetish party scene, dungeon club scene, about the interests and fetishes (and other paraphilias) of clients who participate and S&M and the Law. It is amazing to see the reactions and hear the questions from inquiring minds.
MY PROGRAM & PURPOSE
In all of my presentations, I emphasize the importance of and recognizing the do's and don'ts concerning S&M and the Law – to protect yourself, your partner or spouse, your business/or job, your family and all others connected to you plus professional and lifestyle BDSM protocol, behaviors and relationships.
I explain, emphasize and reinforce to my audience how this same policy is related to everyone's life whether they are in an alternative lifestyle or not. The information and advice I provide is vital for all individuals and couples in relationships, marriages and those who have children or families, all who could become innocent victims from the actions of poorly informed or careless individuals.
I felt compelled to send out Newsletters and posts after I was made aware of a recent legal case here in Florida. This attracted my deep concern. I don't know the facts of the pending case, but what I do know is this: If everyone had attended one of my "S&M and the Law" seminars or taken one of my educational courses during the past 25 years, everyone who took heed would have been able to avoid unnecessary, unfortunate legal hassles. Period.
Skype Sessions & Classes and Guest Lectures for individuals, couples and University classes are available
Guest Speaker Presentations – for Book-Signing Events; radio, web cam, TV, conventions and groups; S&M and the Law plus more!
Private Instruction – in sexual activity/relationships; dominant or submissive role.
Private Courses – in Professional Domination; D/s or M/s relationships.
Sex Education/Coaching – relationship issues, sex/love-making,
"New" PRIVATE DUNGEON: photo sessions; rental; submissive or TV training
Guest Appearances: private theme parties – I will MC or Host your special event!