What if E. L. James had used a seasoned, tough, dominant woman for her fantasy figure instead of the sexual sadist, Christian Grey? What if her main character had been Dr. Charlayne Grenci? Imagine The Devil Wears Prada colliding with the Fifty Shades of Grey? Picture Meryl Streep playing the role of Dr. Charlayne Grenci aka Mistress Carla in FSOG? The movie may not have sold 100 million copies, but the theme would have been as entertaining and unique as bizarre and controversial and Streep would have done a brilliant job. It still could have been a fantasy fiction if James wrote it. Or, would it have been better as a non-fiction? Why has this come up?
I was told that Grenci, Dr. Carla, has been a fantasy figure in her private and professional life for over forty years. Why is this true? The reaction of people to her, their letters, their comments, confessions and proposals. Thousands of men and women alike, young and old have voiced or written about their curiosity, temptation and titillation by the fantasy figure they see. So what's the deal with Carla's image that attracts people… or scares them away? Dr. Carla admitted to me in a private interview that some people are totally intimidated by her presence, mostly those people who have issues about self doubt or inferiority. So what is the big attraction to a mature, dominant woman of Dr. Carla's stature and style? Is it her stature or style, chic outfits, blue hair, signature makeup and long nails? They say "clothes make the man" or woman, but in Carla's case, I don't believe that to be the underlining reason she attracts admirers. Maybe the visual reason but not the main attraction. I assure you it is not.
After requesting permission, I spent a considerable amount of time observing Dr. Carla in many situations, some from near and some from a short distance. I deduced my own opinion from what I saw, heard and read over the thirty years I've known her. How I see it, its all about her energy and attitude, the way she carries herself with poise, class, posture and pride… the way she stands out from the rest. It's powerful. It's femme fatale dominance. It's confidence, knowledge and sensuality all in one powerful package! It reminds me of  Henry Kissinger's famous quote:
"Knowledge is power and power is the ultimate aphrodisiac", which speaks to me. A dominant, powerful female image is a turn-on to many people. That's Carla.
So after I confirmed my suspicion, my mind started wandering and fantasizing. My mind's eye reeled into a series of photo frames flipping over, one after the other from inside the grand penthouse in Seattle, to the helicopter, into the bedroom and then into the red room in Fifty Shades of Grey. But I didn't see Christian Grey in those scenes, I saw Dr. Grenci! Yes, clearly, Grenci was dressed in a chic, designer grey pant suit and spiked-heeled boots, both by Gucci of course, with moderate makeup and her signature hair style, ready for her boardroom meeting, but sitting across the long table from Anastasia Steel in the conference room, staring intently at her applicant while negotiating the contract. Next, I saw Grenci securing Anastasia in bondage with a pair of handsome red leather wrist cuffs and bending her face down over the padded bench for some bum teasing and a heavy flogging. It's mind-blowing and sensual at the same time, because Anastasia is as innocent to her first female encounter as she is to her first BDSM relationship. The plot thickens and the scene intensifies while Grenci ravages Anastasia with her fingertips and favorite deerskin flogger. I would have written "rapes Anastasia….." but that might have offended someone, oops? Some moderate biting and squeezing of her flesh, liquid velvet lip kissing and forceful body thrusts by Grenci quickly pushing Anastasia into a deep, submissive head space where she let's herself go safely and uncontrollably. There's no mercy in sight from Grenci's hot, passion-play and discipline in this decadent chamber of delights, until the young novice utters her safe word or screams violently from a rush and flood of unavoidable pleasure!
I can easily see Grenci effectively substituting Christian Grey in FSOG which would have put another bizarre twist to the trilogy and the movie. Here again, because of the curiosity factor, thrill-seekers and adventurers would have gotten stimulated between the covers and then melted into their theater seats. Guaranteed there would be many more men sneaking out to catch this "woman dominating a woman" flick for a lengthy, lusty lunch break, then rushing home, or elsewhere, to loosen their load.
So if you think Fifty Shades of Grey is controversial, think again how much more controversial and real at the same time it could have been? Grenci's Fifty Shades of Kink would have blow the theme in FSOG out of the water. Female dominance is powerful and power is sexual…. but since E.L. James failed use Grenci as her dominant character, you should read, Queen of Domination: My Secret Life by Dr. Charlayne Grenci.
You will be titillated, shocked and entertained!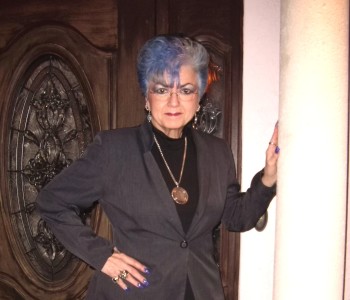 !