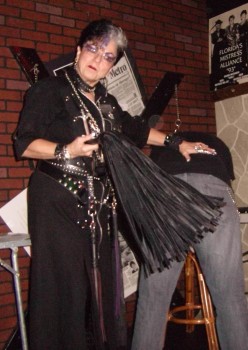 It was amazing in those early days, when people met me and heard what I did for a living; they became anxiously interested in seeking my advice about their personal sex lives. This happened on a regular basis in and out of the dungeon.
Everywhere I went and most everyone I met became curious and started inquiring, probing…. I felt I was "on stage" wherever I was, but I didn't have a problem sharing my knowledge, nor did the subject of "sex" embarrass me. It seemed everybody had questions or issues about their relationship or sex life. Most mainstream people were not familiar with the subculture I was involved with, but they knew it dealt with sexuality and that is what caught their interest.
Discussions with strangers and acquaintances quickly became as frequent and popular as with my personal friends and fetish enthusiasts.
Whenever I divulged my taboo occupation to family doctors, I was asked to stay and chat with them after my appointment. Predictably, they all wanted to be enlightened on the subject of domination and submission and what went on in the dungeon. Who were my clients and what did they ask for? I gladly obliged, because I knew my first hand knowledge would be news to them, that which they had not read in their text books. Surprisingly, I was approached by my mortgage broker who was searching for answers about her teenage granddaughter who wanted to become a man. She asked if I would counsel and console her granddaughter, because the girl's parents had turned their backs on her. I accepted her request, but she never contacted me.
Often, I visited a popular swinger's club in Deerfield Beach from 1980-1987 where singles and couples gathered for an afternoon or evening of consensual lust and lascivious behavior. Unsurprisingly, I was invited to hold court where the members would gather to pick my brain about being a dominatrix and to inquire about their personal sexual issues. Our discussions always embraced debatable and controversial sexual subject matters. I learned a lot about swingers during that time period, and found myself on numerous occasions consoling the partner who was having a hard time sharing their spouse with another man or woman in the back room. I was saddened by some of the heart-wrenching stories told to me by jealous or heartbroken spouses, and it bothered me to see and feel the pain and anguish I observed. I never took one person's side over their partner and I quickly learned I could not be judgmental.
In the dungeon at home, frequently my clients requested to speak with me after their private session. Subsequently, I added the option for a consultation at the end of everyone's visit. When I realized those consultations were providing me with authentic educational information, I began to encourage clients to take advantage of a complimentary consultation with me at the end of each session. I explained that a consultation would give them the opportunity to discuss secrets, problems and concerns which they felt could not be discussed with anyone else, including their wife or girlfriend.
Most of my client's were thrilled to discuss all aspects of their sex life. Some had questions about their sexual identity, sexual dysfunctions or relationship problems. Others questioned the ability of their sexual techniques and performance and many were eager to inquire about the sexual needs of their wives, fiancés or girlfriends. They commonly questioned their desire for wanting sexual involvement with me, or they were looking for answers about their fetishes and fantasies. They wanted to know where their desires originated and why did they have these bizarre interests? I saw how many confident and virile men were confused, disturbed and troubled thinking that they were "sick" or the only one who felt this way. Occasionally, a client would tell me he had shared his secret with his sexual partner and the negative responses had been devastating. Many of my clients were harboring guilt and shame for having disgusted and turned off their partner. So a visit to a Dominatrix for discipline and punishment was in order. I was told the punishment managed to relieve some of the their guilt.
So as it happened, through the 1980s, I obtained a wealth of first hand knowledge from clients and gained years of valuable experience. I had been pioneering a new industry because of my Dungeon VS Clinic concept. I had developed through experimentation, similar in some respects to the interview program that Alfred Kinsey and his staff engaged in to accomplish his well-established, famous reports on sexuality. My project was strictly focused on individuals in alternative lifestyles and/or those who wanted to share their sexual secrets and problems with me in the realm of fantasies, fetishes and paraphilias. The more I heard, the more I became fascinated and eager to hear more about my clients' past experiences (or lack of) and to observe my clients' sexual behavior and sexual response during the private sessions. Consequently, I had devised my own non-conventional research where I recorded and filed the information on notebooks and index cards for future reference. Today, I recognize that those early years of exploration during the 1980s in my dungeon I was unaware that in reality, my system had developed into what could be described as a non-conventional sex research program.