Your Next Escape, Vacation, Escapade or Training Session! Alternative Lifestyles Welcome to Pompano Beach, Florida, USA!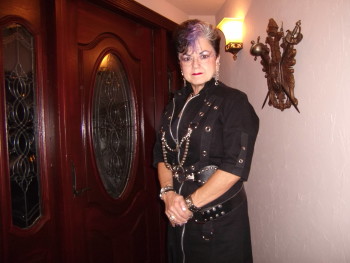 ~ Business men/locals/travelers/vacationers ~

Come hideaway in a cozy apartment (in a private home) especially for alternate and kinky lifestyles: singles, (or you and your girly wear) or D/s, M/s couples welcome here! Break away from the rat race for a change.
Furnished: Queen sofa/bed; 40″ Cable TV & Wi-Fi; desk (and vanity); refrigerator; microwave; toaster; private entrance; private bathroom w/shower; sliding glass doors to small porch; outside patio; fenced in yard; laundry facilities on premises. Bondage chair, rack, bench, cage, toys and equipment available. Alternative Playroom optional. Discreet and confidential.
All Rentals = Require minimum 3 Day Advanced Notice & 50% Deposit by PayPal & Authorization w/ valid driver's license or passport and credit card verification (for Pay Pal) or Cash;
1 Weekend – 2 nights (Fri. 4:00 pm Check-In to Sun. 12 noon Check-Out)
1 Week (Sun. 4:00 pm Check-In to Sun. 12 noon Check Out)
1 Month (4 weeks)
OPTIONS:
Special Requests for other Rental Options – upon Availability.  Equipment/Accessories Available – for your use (upon request) with Deposit.
Pvt. Sessions Available: D/s, M/s, BDSM, Fetish, Cross-dressing, Instruction; Supervision, Novice to Advanced Training Programs and Courses available during your visit by GMistress Carla
Upon Request
Alternative: Playroom For Rent (nearby location)
Don't spend your private time at a busy hotel where you can't be yourself! Or, surprise your spouse or partner with a unique "get-away" location to a "scene friendly" place in sunny S. E. Florida. Whether you're here on a short business trip, for a weekend break to "dress up for pleasure", a week's vacation "to enjoy your lifestyle"(without unexpected company), or for a month (or longer) away from the Northern weather…
LOCATION:
My primo location is in a quaint neighborhood:
1 block from US1 – in Pompano Beach
5 minutes – from Command Performance (fetish club)
5 blocks South (3 minutes) from TJ Maxx, Staples, Publix, restaurants, bars, gas station, gym, banks, Post Office, fast food, CVS, Walgreens, Dunkin Donuts and much more!
5 minutes (1mile South): Adult Book Store; 14 St. Causeway to the Beach; the Pompano Mall (Macy's, Sears, Cinemax (movies), Chili's, Lowe's, J Marks Restaurant, Panera Bread, Dairy Joy, YouFit gym and many plazas with many more restaurants, bars and shopping within 5-10 minute drive!
1/2 – 1 mile North: McDonald's, LA Fitness, WalMart, Tijuana Taxi, Country Club, gas stations, Walgreen's, CVS and more restaurants and clubs!
Request the "M/s Overnight-COMBO PKG."
If you are ready for a new adventure, then I suggest you treat yourself to My "M/s Overnight COMBO PKG." which would give you a 2 hour Interview/Consultation at (3:00PM), Overnight Accommodations for the Evening (Check-in after your interview – 5:00PM) and an M/s session with Me at 8:00PM. Then you are free to go to Command Performance, or elsewhere for the rest of the evening (after 9:00PM). I can accompany you to an alternative location after 9:00PM.
A new, exciting adventure awaits your arrival, only limited by your imagination! You are cordially welcome to call today to make your reservations.
RESERVATIONS:
Contact Your Host: Dr. Carla
For Rates & Availability Call: 954-980-2780 (2pm-7pm) or
E-mail for Info:   click here