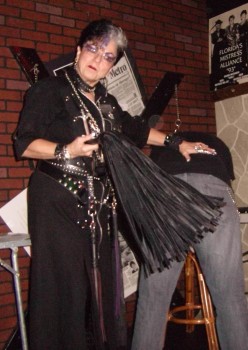 It was amazing in those early days, when people met me and heard what I did for a living; they became anxiously interested in seeking my advice about their personal sex lives. This happened on a regular basis in and out of the dungeon.
Everywhere I went and most everyone I met became curious and started inquiring, probing…. I felt I was "on stage" wherever I was, but I didn't have a problem sharing my knowledge, nor did the subject of "sex" embarrass me. It seemed everybody had questions or issues about their relationship or sex life. Most mainstream people were not familiar with the subculture I was involved with, but they knew it dealt with sexuality and that is what caught their interest.
Discussions with strangers and acquaintances quickly became as frequent and popular as with my personal friends and fetish enthusiasts.
Whenever I divulged my taboo occupation to family doctors, I was asked to stay and chat with them after my appointment. Predictably, they all wanted to be enlightened on the subject of domination and submission and what went on … Continue reading →