QUEEN OF DOMINATION, MY SECRET LIFE


The True Story of America's Infamous Mistress Carla
CLICK HERE to order QUEEN OF DOMINATION, MY SECRET LIFE on Amazon today.
This gripping tale of sexuality & indomitable spirit makes a great gift for lovers and friends alike.

"Unlike the popular erotic novels such as
Valley of the Dolls
,
The Story of O
, and the recent bestseller,
Fifty Shades of Grey
,
Queen of Domination
is one of the few non-fiction accounts of female sexuality that will at the same time shock and titillate the reader. Dr. Grenci is a true pioneer as a writer about female sexuality, and you owe it to yourself to take this erotic journey with her so you may begin to understand female sexuality. It is no longer her secret life, but a life to share with the world." –William Granzig, Ph.D., President, American Academy of Clinical Sexology  
ORDER: QUEEN OF DOMINATION, MY SECRET LIFE
(Personalized to you & Signed by the Author)- $19.95 ea.
 2 copies  $38.95 

20 copies  $400 + 1 Free for You!
---
LADIES and GENTLEMEN – Welcome to the controversial, erotic world of adult entertainment in literature. This book is all about twisted, lustful and forbidden sexual fantasies. sexual adventures and guilty pleasures!
Secret Cinemas, 10 Erotic Movie Fantasies is pioneering a distinctive path of its own.  It offers a dissimilar feature, (a secret for now) created for your reading enjoyment.  Don't read this book, experience it!  By Dr. C.E. Grenci
WARNING: NC-17 – Adults Only
No One 17 and Under Admitted. Clearly adult.
---
AND AVAILABLE NOW – ON AMAZON, KOBO, Barnes & Noble etc.: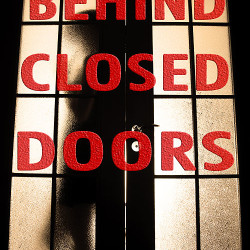 Decadence, Sex, and Crime BEHIND CLOSED DOORS
Did you ever wish to get a peek behind closed doors – or you imagined you would be a tiny fly to get access and find out what's really going on in the lives of others? 
Experience in this fictional investigation of a detective "fly on the wall", your narrator,  the shocking, uncensored stories about the private lives and double lives of people we think we know. Take a peek behind the masks of hypocrisy and the walls of deception that lurk and thrive in the mainstream; the secret, desperate lives of sinners, perverts, and criminals that remain usually well hidden in posh mansions from the wrath and condemnation of our society.
          Reading BEHIND CLOSED DOORS: Detective Fly On The Wall, you will likely agree that author Charlayne Grenci bluntly wrote bizarre, fictitious tales with sinister, violent, gruesome and highly emotional plots. Her purpose was to expose and dramatize the true reality of what goes on in the private lives of people in suburban America.
Charlayne Grenci's liberal use of gross, macabre, absurd and sorrowful imagery was necessary to epitomize and encapsulate all the dynamics that exist in real life situations, to evoke your deepest emotions and to stimulate your darkest fantasies.
---
MARCEL PROUST EXPOSED
A riveting, controversial, tell-all exposé by Dr. Charlayne Grenci
"Grenci's study will prove beyond a reasonable doubt why Proust was a sadistic, tortured soul, plagued by the depth and diversity of his sexual identity and secret perversions, his highly creative personality and medical illnesses."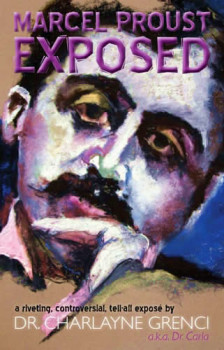 Also available from Barnes & Noble
Available in English on Amazon in European and Scandinavian countries, Australia, Canada, Japan and Brazil.
---
Since 2012, I have been diligently pondering the past & wrote a book which has been published on August 25
I used the manuscript I had completed in 1985, but was never published, for its content of accurate dates, information and true accounts of my experiences.  I incorporated that book into a memoir of my extraordinary  life which reads like a graphic, compelling and kinky novel!  The book is titled QUEEN OF DOMINATION, The True Life Story of America's Infamous Mistress Carla.
Below is a preview of the storyline in QUEEN OF DOMINATION.
---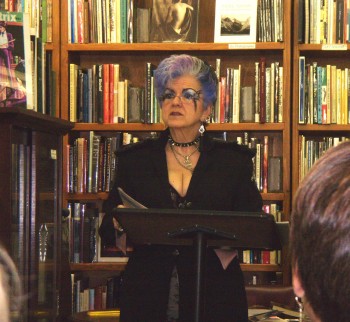 For the past 34 years I have been known as Mistress Carla, a real life dominatrix, with thousands of clients. QUEEN OF DOMINATION tells my story of how I went from growing up as a privileged but rebellious teen in the conservative town of Bangor, Maine to exploring alternative erotic and kinky lifestyles with male and female partners to becoming a dominatrix in Florida beginning in 1979 when I was 30.
As a real life dominatrix, I soon became known internationally for my theatrical style and well-equipped, clandestine garage. I had male clients from all walks of life from 21 to 80 years of age, including prominent city leaders, who came to my torture dungeon of whips and chains. Then, in 1983, after a police raid, I was arrested for prostitution, imprisoned, castigated in the press, and faced a legal system fraught with corruption in a case that turned into a protracted witch-hunt and three-ring circus of a trial. It was one of the most sensationalized criminal cases of its time.
Once my legal struggles ended with a five year sentence, I defied the system again and opened Florida 's first dungeon club and fantasy theater, in which people observe or participate in secret sexual fantasies. The dungeon club playground still thrives today. I also became an educator, consultant, and authority on BDSM (bondage, discipline, sadism, and masochism), and now I lecture at universities and conventions all over the U.S. and internationally.
QUEEN OF DOMINATION follows my story from small town girl into the world of eroticism, lust, deviance and kinky behavior to my life today as a doctor of clinical sexology.
The memoir reads like fiction — like a real life FIFTY SHADES OF GREY. The book should have broad appeal given the huge success of FIFTY SHADES, which is now on track to become a blockbuster Hollywood movie.
The book will especially appeal to women from all different backgrounds, from housewives and mothers to working and professional women. It will appeal as well to men interested in erotic fantasies or kinky sex; parents, teachers, college professors, physicians, psychologists, psychiatrists, sociologists, court officers, and law enforcement personnel. Others who will be especially drawn to the book are people in alternative lifestyles including the GLBT community, swingers, the BDSM community, and people working in or involved in the sex industry and subcultures, which includes millions of people.
Because of the spirit of this book, which features a woman finding empowerment through standing up to conventional society and exploring normally bizarre and taboo areas of life, you should find the story fascinating, as well as a source of life lessons.

Grande Mistress Carla
QUEEN OF DOMINATION